Ok, I'm in no way means a good artist, but it doesn't mean that I don't enjoy to doodle :'D
I was born and live in England, but my family is Russian. (And I'm bilingual)
I think by now, you will be bored, and saying 'why am i reading this person's bio?' so I'll just stop here.
If you are reading this, then I LOVE YOU, ahem, sorry, I mean ... I hope you enjoy whatever crap I have to offer! xxx

My Tumblr: thatrussiankid.tumblr.com/

Also, here are some people whom I love very much!



INTERNET FAMILY



ICON FAMILY







(creator)

FAVOURITE DA ARTISTS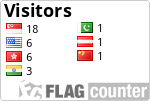 Free counters